COL-e is; Vibrant, Colorful and Fun. The Artist's Playful renditions of people, landscapes and still lifes are like wall candy for the eyes. "Tropical Scenes" and "Romantic Getaways" are part of a new series of work sure to sweep you away and remind you of a romantic tropical island paradise.


COL-e feels her technique and unique ability to paint and understand color is innate and autodidactic. When COL-e paints she is at a spiritual oneness with herself and her artwork. Her flair for depicting moments in time, in a kaleidoscopic manner, has led the artist to be exhibited in countless studios, museums, and galleries world wide.






"Romantic Kiss"



"Proposal Dinner"



COL-e has exhibited her artwork in Europe, California, New York, Washington, D.C., Michigan, Kentucky, Georgia and Florida.

COL-e who is originally from Georgetown, Washington, DC and grew up in Virginia now considers Miami, Florida to be her new ideal residence. Anyone can see the great influence of the tropics and international cosmopolitan flair of Miami Beach and its lifestyle in her artwork.



Prior to moving to Florida in 1996 COL-e completed her undergraduate studies in the Fine Arts at The University of Michigan in Ann Arbor. While in college she studied photography, ceramics, mixed media, and music; working on her painting independently outside of her curriculum.

COL-e moved to New York and then Los Angeles, where she attended graduate school at California State University earning a formal education in the Fine Arts.





"Jazz" (sold)



"Tropical Moon" (sold)



COL-e developed her painting techniques through years of traveling and studying master painters. She perfected her own original style of artwork by spending a great deal of time with many other successful and recognized professional artists at various studios all over the United States. This is how COL-e's unique method and style of painting emerged, resulting in the creation of her own vividly bold, abstract figurative artwork.



COL-e's art is very unique and distinguishable because of her specific style and color pallet. She has created a new method of painting.

Contrary to traditional painting Col-e uses tools that resemble culinary utensils. This technique combined with the use of acrylic and silicone mixed together enable the artist to create heavily textured and raised surfaces on her canvases. Powerful and intense colors drive the bold brush strokes to convey the simplicity and mood of her paintings.





"Sunbather"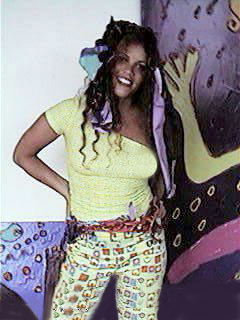 Info on Col-e




Additional Web Site